Our Patients Speak: Restless Legs Syndrome [VIDEO]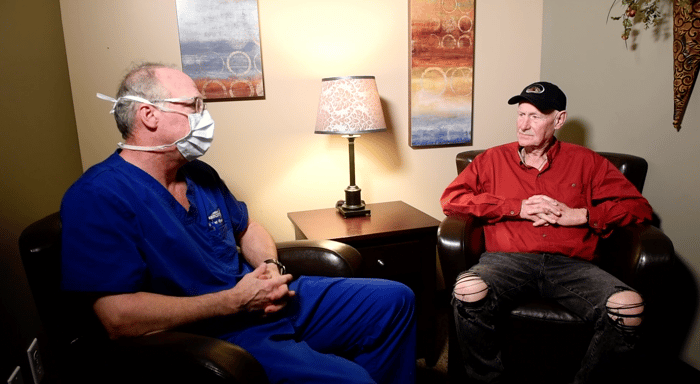 At Missouri Vein Care, we see patients like Jim often - those who have been battling restless legs syndrome for years, but haven't been able to find a solution - until they come to see us. Here's Jim's story:
For the last 25 to 30 years, Jim has been unable to find any relief from his restless legs syndrome. Sleeping just simply wasn't an option for him, and if he could sleep, it was only for a few hours at a time. The thought of eight hours seemed like more of an out-of-reach dream rather than reality.
For someone with a chronic sleep disorder, there are a few common symptoms.
They are generally physically and emotionally exhausted.
They have less emotional energy to deal with the challenges of life and are short-tempered.
Sleep deprivation causes muscle aches throughout the whole body, and people lose their motivation and ability to focus, and of course, they are exhausted.
Finally, a long-standing sleep disorder is often accompanied by weight gain. When people are deprived of sleep, the brain misinterprets it as being deprived of food, and people often overeat and gain weight.
For Jim, things continued like this until he came to see Dr. Ryan at Missouri Vein Care.
After his first treatment, he was finally able to get that full night of uninterrupted sleep. Now, he sleeps anywhere from six to eight hours without having to toss and turn through the night. He gets a solid night of rest without his legs bothering him.
To hear more about his experience with Dr. Ryan and having treatment done at Missouri Vein Care, watch the video below.
"They don't ache and they don't hurt. Everything is wonderful."
Jim is now able to go all day without having his legs feel tired, and he sleeps through the night for the first time in 24 years. If you're struggling with restless legs and poor sleep, know that you're not alone. There are treatment options out there for you, even if you feel like all hope is lost. Dr. Ryan and the staff at Missouri Vein Care are standing by ready to help you find relief from your vein problems.
For restless leg syndrome, we have an 80% success rate in alleviating the symptoms when they are attributed to a vein condition. The challenge is that many do not realize there can be a connection. A free vein screening will reveal a link between RLS and a vein condition, and when there is, we can help.
If you or someone you know struggles with any of the list of invisible signs of a vein condition, or the more visible indicators of varicose veins, spider veins, or skin staining...know that you don't have to live with it. Simply contact us to schedule your free vein screening either online or in person.