Types of Compression Stockings: Read Before You Buy!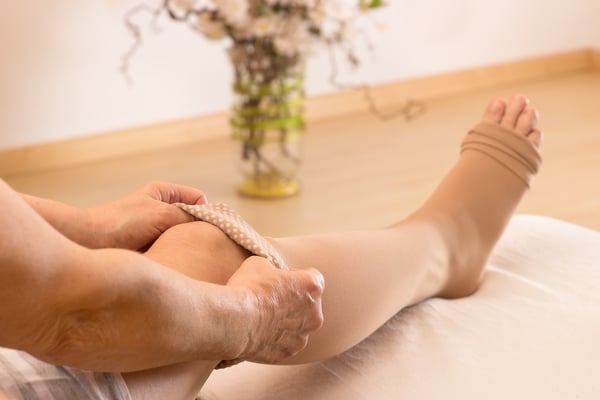 When it comes to compression stockings, there are a few factors to take into consideration, like finding the most comfortable pair... which is the key to using them. The main issues preventing comfort are: toe-less or not, the length (knee-high, thigh-high, pantyhose), compression strength, tightly fitted, and type of material. Finding a pair that meets your needs on these key parameters will allow you to reap the full benefits of compression stockings. This guide is based on what I have observed with patients over the years to help you figure out which ones are the right fit for you! With so many stocking options, doing your own research online and reading reviews is crucial to picking the right one based on what your comfort needs are.
Toeless vs. Toe-in
Most patients do fine with standard (toes covered) stockings. If you have known issues with bunions, tender calluses, large toenails, sensitive or painful toes or feet, and numbness in your toes - then toeless will likely be the best choice. Some patients say the feeling of the toeless stockings on their feet takes a little adjusting, just like a new pair of shoes! Patients also like to wear toeless stockings in the summer so they can wear sandals. People with large feet often prefer toeless due to comfort.
The Length
Most people do very well with knee-high stockings as they are the easiest to wear and the length we commonly recommend. Make sure the knee-high stockings are long enough to make it below the knee joint; if not they will slip down. Patients who benefit from thigh-high stockings usually have bulging painful veins in their thighs or have tried the knee-high, but find they dig in at the knee. Thigh-high stockings can slide down, but this can be prevented by the use of silicone lotion which is very patient-friendly. A garter belt and the use of tight-fitting shorts can help as well. For pregnant women or people who are overweight that need thigh-high stockings, a pregnancy pantyhose style can work much better to avoid sliding down.
Compression Strength
In general, the higher the compression, the harder it is to put on and take off and the greater the chance the stockings may damage skin nerves. I recommend 20-30mmHg which is a good middle-of-the-road option is well tolerated, is great for providing support, and meets most insurance requirements. If you are not concerned about meeting insurance requirements, you can also try 10-15 mmHg but you may not get much relief. The higher strength (30-40 and 40-50 mmHg) can cause skin nerve injury and lead to numbness, and I recommend these only for advanced vein conditions such as post-thrombotic syndrome after a DVT or a skin ulcer.
Are They Fitted?
This is the single most important determinant of comfort. The fit considers how long as well as how wide they are - both are important for comfort and function If they are too tight they really hurt and no one wears them. If they are too short they will roll down. If they are too big, they don't provide enough compression. To measure, find the circumference of the ankle, below the knee, and upper thigh (for thigh-high and pantyhose. For pregnant and overweight people, maternity compression pantyhose may fit better with a larger waist.
Type of Material
The material will determine the appearance, skin comfort, heat tolerance, and ease of putting on/taking off (best with thicker material to grab onto). In terms of appearance: sheer material often looks nicer and has a dressier, thinner look. The look of the stocking and the pattern is wide open - take a look on the internet. Skin comfort: depends to a large extent on how your skin tolerates the various polyester materials and cotton. If you know what you don't tolerate well, cross-reference when you shop for stockings. There are also 100% cotton compression stockings that allow your skin to breathe well. Heat tolerance: depends on the density of the weave, the thickness, and the type of material. Wider weaves and thin stockings with more cotton have fewer complaints about being hot. Thinner stockings, while usually not as hot, are not as sturdy and tear more easily when putting them on so be careful. "Ease of use: wider weaves and thicker stockings are easier to grab with your fingers to put on or take off. For the people intolerant of thinner stockings, this will have less heat build-up.
The Bottom Line
Stockings can provide great relief for people with vein circulation problems. The keys to comfort are the right fit and material. Your best means to find the right match are getting recommendations from your vein specialist or researching options and reviews online.